Recipes
If you're on this website, it means you have already started the journey along the path to a slimmer, healthier you.
Here are some recipes to help you on your journey.
Breakfast
Orange Banana Smoothie
---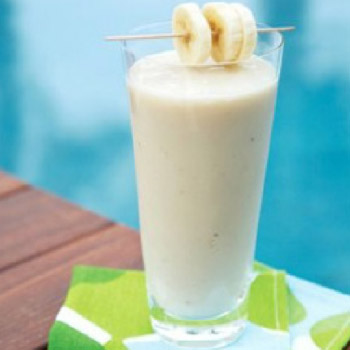 Ingredients
1 banana, sliced
1 cup of skim milk
1 handful of ice cubes
1 cup orange juice
100 ml pineapple juice
Method
Combine ingredients.
Blend until smooth and serve.
---
Yoghurt and Honey Breakfast Bowl
---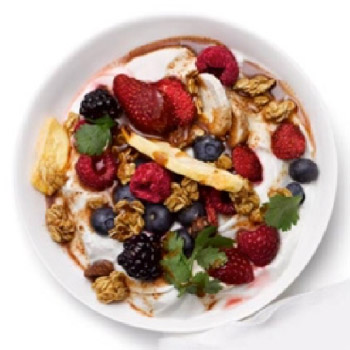 Ingredients
200 ml yoghurt, plain, low-fat
1 handful of nuts/seeds (sunflower, sesame or pumpkin seeds, almonds, walnuts, cashew nuts)
honey to taste
sliced fresh fruit (apple, ½ banana, strawberries, raspberries, pear, mango, etc.)
TIP: Make sure there are no raisins or dried cranberries in your breakfast as they are High-GL and shoot your blood sugar up.

Method

1. Pour yoghurt into bowl.
2. Sprinkle with nuts or seeds.
3. Add fruit and drizzle with honey.
---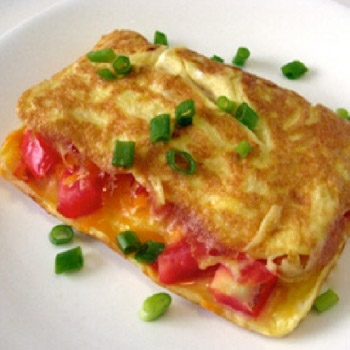 Ingredients
2 eggs
2 tablespoons low-fat milk/water
salt and pepper
spring onions diced/regular onions diced
tomato, diced
lean fat-trimmed bacon/lean mince/ham
dash of olive oil
Extra: Rye bread to toast
Method

Mix the eggs and low-fat milk/water in a bowl.
Add the salt and pepper and whisk for one minute.
Add a dash of olive oil to the pan on medium heat and swirl.
Pour the egg mixture into the pan.
Add the filling ingredients on top of the omelet (spring onions, tomato, bacon/lean mince/ham).
Once the omelet seems cooked fold it in half and serve with rye toast.
As a variation, add in green peppers or mushrooms.
---
Berry and Banana Smoothie
---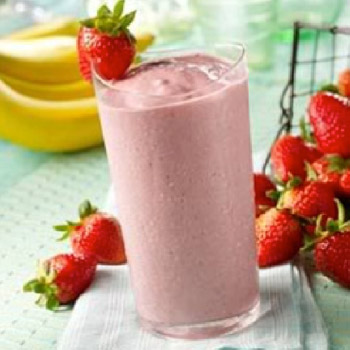 Ingredients
1 teaspoon seeds (pumpkin, sunflower or sesame seeds)
150 g plain, low-fat yoghurt or soya yoghurt
½ a banana
1 punnet of berries (frozen or fresh) raspberries, blueberries, gooseberries, strawberries, etc.
A dash of apple juice
Method
Blend all ingredients together until smooth.
If it is too thick, thin it with a little water or apple juice.
---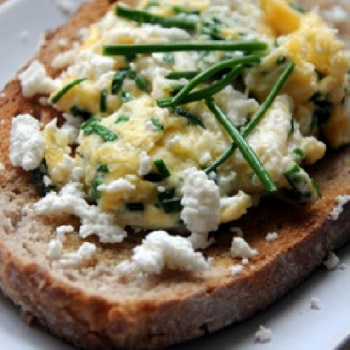 Ingredients
Serves 1
2 eggs
ground black pepper
1 slice of rye bread
1 teaspoon of olive oil
Extra: Add pan fried tomato, diced
Method

Beat the eggs together with the pepper.
Toast the bread.
Heat olive oil in the pan and pour in the beaten eggs.
Slowly stir the eggs and remove when cooked.
Serve on the rye toast.
---
Cinnamon and Seed Oats (Non Instant)
---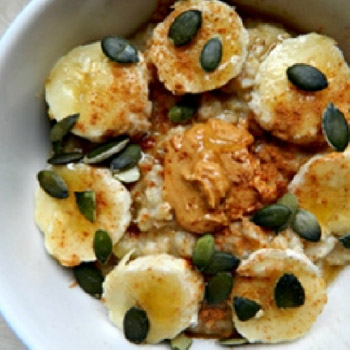 Ingredients
Serves 1
35 g whole porridge oats (non-instant)
3 parts water to one part oats
1 teaspoon seeds (sunflower, sesame or pumpkin seeds)
Xylitol (2 teaspoons max)
Cinnamon
Dash of salt (to taste)
Extra: Garnish with a few blueberries or strawberries
Method

Place the oats and water in a pot.
Bring to the boil and then reduce heat to let it gently simmer, stirring often.
Allow the oats to thicken and the oat flakes to soften.
Stir in the seeds.
Serve into bowl, adding salt, xylitol and cinnamon according to taste.
---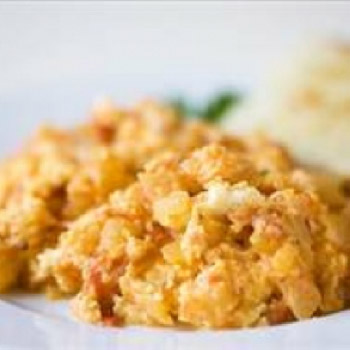 Ingredients
3 tbsp extra virgin olive oil
6 large eggs
1 dash freshly ground pepper
1 dash salt
1 large yellow onion, peeled and chopped
10 plum tomatoes
Method

Heat olive oil on medium heat in a non-stick skillet.
Add the onions and cook until translucent, just starting to turn golden in color, about 6 minutes.
Add the tomatoes and cook over low heat until the liquid evaporates, about 40 minutes.
Whisk the eggs in a bowl until well blended. Season with a little salt and pepper.
Add the eggs to the tomato and cook over medium heat, stirring constantly, and scraping from the bottom with a wooden spoon.
Remove from heat as soon as the eggs begin to set, but are still moist, about 3 minutes.
Turn out onto a serving plate. Serve immediately.
---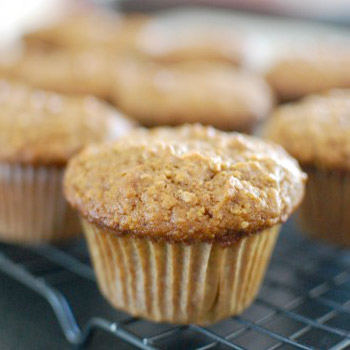 Ingredients
2 large egg whites
1 tbsp cinnamon
½ tsp salt
1 tsp vanilla extract
½ cup apple sauce
2 tsp baking powder
1 tbsp Xylitol
2¼ cups oatmeal
¾ cup skim milk
Method

Preheat oven to 350 °F (175 °C).
Spray muffin pan with non-stick spray or line with cupcake liners.
Mix oatmeal, salt, baking powder, cinnamon.
Add remaining ingredients until it resembles slightly runny oatmeal.
Fill muffin cups ¾ full.
Bake 15–20 minutes until golden brown.
---
---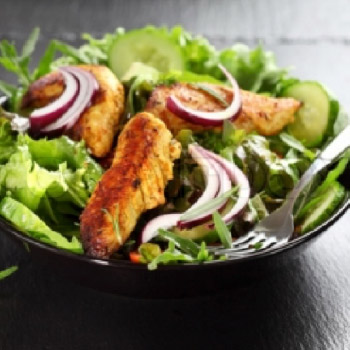 Serves 6 (pack it for your partner's or kids' lunch or have it as dinner)
Ingredients
4 skinless, boneless chicken breasts, cut into strips
30 ml groundnut oil
30 ml sesame oil
2 cloves garlic, chopped
1–2 red or green chillies, deseeded and finely sliced
2 cm fresh root ginger, finely grated
75 ml red wine vinegar
75 ml water
160 g assorted herb salad leaves
Marinade
30 ml dark soy sauce
30 ml honey
Method
Marinade: mix together soy sauce and honey.
Place chicken in a non-metallic bowl and pour the marinade over it. Toss the chicken well to coat it and refrigerate for 30 minutes.
Heat 15 ml of the groundnut oil and 15 ml of the sesame oil in a wok or large frying pan. Add the chicken and stir fry for 5–6 minutes, until cooked through and browned. Remove it from the pan and allow to cool.
Add remaining oil, garlic, chilli and ginger to the pan and fry, stirring and scraping the bottom of the pan for 3–4 minutes until the garlic starts to brown.
Stir in the vinegar and water, then bring to the boil and remove from the heat.
Arrange the salad leaves on plates, top with the chicken strips and spoon the warm dressing on top.
---
---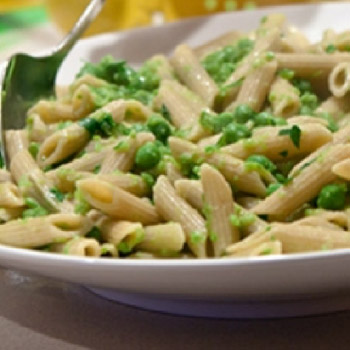 Serves 4
Ingredients
1 bunch asparagus, trimmed and cut into thirds
250 g peas or sugar snap peas
500 g penne pasta (choose whole-wheat, spinach or brown pasta as a better choice)
3 tbsp olive oil
60 g grated parmesan cheese
Salt and pepper to taste
Extra: Add a spoon of pesto
Method
Bring a large pot of lightly salted water to the boil.
Add asparagus, and cook for 2 minutes.
Add peas, and cook for 2 more minutes.
Transfer vegetables to a large bowl and set aside.
Add pasta to the boiling water and cook for 8 to 10 minutes or until al dente. Drain.
Place pasta in the bowl with asparagus and peas. Toss with olive oil, parmesan, salt and pepper (add the extra pesto if desired).
---
---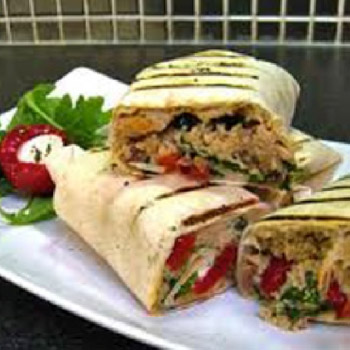 Serves 1
Ingredients
1 wrap (tortilla or brown wrap)
1 heaped teaspoon hummus
1 tablespoon diced peppadews
1 handful of lettuce of your choice (rocket, spinach or butter lettuce can also be mixed in)
2.5 cm of cucumber, sliced
Ground black pepper
Extra: Add skinless chicken slices and avocado
Method
Spread the hummus down the center of the wrap.
Place the salad (cucumber and lettuce) on top.
Evenly distribute the peppadews over the wrap.
Sprinkle with pepper and roll up.
---
Chicken and Pine Nut Salad
---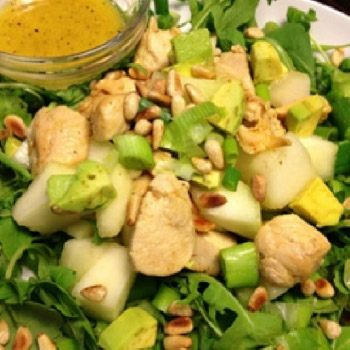 Serves 1
(Double up if it needs to serve 2)
Ingredients
½ bag mixed salad leaves of your choice e.g. rocket, lettuce leaves, butter lettuce, etc.
75 g cooked skinless chicken, cut into small pieces
2 teaspoons pine nuts
1 handful of cherry/baby tomatoes halved
¼ of a cucumber, diced
Balsamic vinegar and a dash of olive oil
Ground black pepper to taste
Extra: Add half a sliced avocado
Method
Add all the salad ingredients together (except the balsamic vinegar and olive oil).
Toss.
Drizzle with balsamic and olive oil.
Serve.
---
---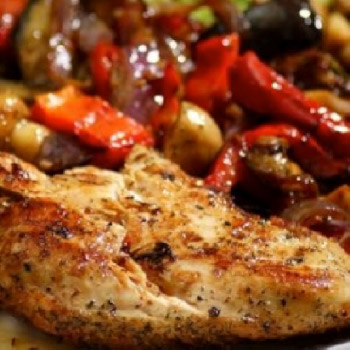 Ingredients
3 tbsp Xylitol
1 tbsp distilled white vinegar
500 g boneless skinless chicken breast
2 tbsp sliced green onions
2 tbsp lite soy sauce
1 tbsp extra virgin olive oil
1 tbsp cornstarch
¼ tsp ground cayenne pepper
¼ cup chicken broth
1 clove garlic
1 tsp grated ginger root
1 medium red bell pepper, cut into pieces
Method
In a medium sized bowl, combine the soy sauce, vinegar, cornstarch, Xylitol and red pepper. Set aside.
Heat a large skillet over high heat. Add the olive oil and rotate the skillet until completely covered.
Add the chicken, garlic and ginger root.
Continue cooking for 6 minutes or until chicken is cooked throughout.
Add the bell pepper pieces and continue cooking for an additional minute.
Pour the broth mixture to the skillet. Cook and stir for 1 minute or until the sauce has thickened.
Sprinkle evenly with green onions.
---
Fiesta Lime Chicken with Zucchini
---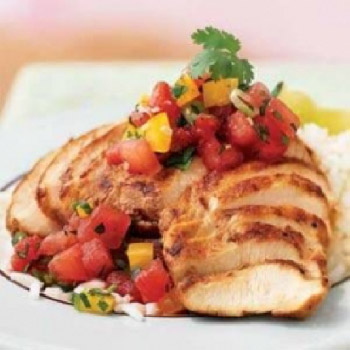 Ingredients
2 pieces skinless, boneless chicken breast cutlets
1 yellow squash
2 tbsp extra virgin olive oil
1½ tsp chicken seasoning
1½ tsp minced garlic
¼ cup cilantro
½ cup parsley
¼ cup lime juice
1 tbsp paprika
1½ dashes pepper
1 dash salt
½ cup chopped scallion
2½ Italian tomatoes
2 large zucchini
30 ml white wine
Method
To prepare, slice zucchini and yellow squash into 2.5 cm sections.
Dice tomatoes. Mince garlic, parsley, scallions and cilantro.
Combine diced tomatoes with cilantro, scallions, salt and pepper to create salsa crudo topping.
Season chicken breast cutlets with seasoning, paprika and parsley. Begin to warm garlic & extra virgin olive oil in sauté pan.
When garlic aromas become apparent, add seasoned chicken cutlets and add white wine.
Sauté chicken in pan until chicken is ¾ done. At that point, add zucchini, yellow squash, and lime juice. Cover and steam until vegetables reach desired texture.
Remove chicken and vegetables when cutlets reach a caramelised-looking texture.
Plate chicken and vegetables, and finish by adding desired amount of salsa crudo to the top of chicken. Enjoy!
---
---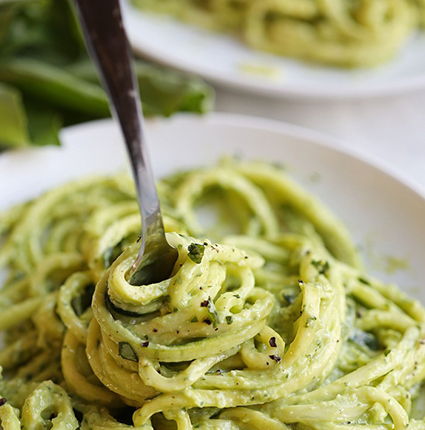 Ingredients
1 tbsp black pepper
2 tbsp olive oil
2 medium zucchini
Method
With a good potato peeler, create long "noodles" by starting at the top of the zucchini and peeling wide ribbons down the length of the zucchini.
Continue making ribbons as you turn the zucchini to get all the green part off first.
When the center portion becomes too thin, set it aside to use for a salad and start a new zucchini.
Heat a large skillet on medium high.
Add the olive oil and zucchini "noodles".
Saute the "noodles" for 2 to 3 minutes.
Season with freshly grated black pepper and salt if desired to taste.
Serve with your favorite pasta sauce. I like to eat these with red sauce and meatballs!
---
Brown Rice and Sweet Potato
---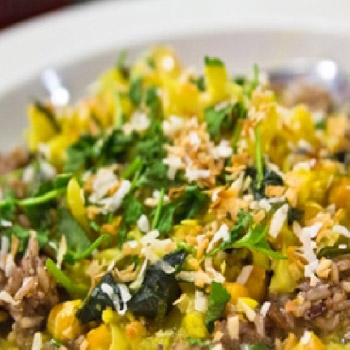 Serves 1
Ingredients
1 small sweet potato, chopped coarsely
Cooking oil spray
1½ cups vegetable stock
1 teaspoon olive oil
1 small onion, chopped finely
1 clove garlic, crushed
1 trimmed celery stalk (100 g), chopped finely
70 g mushrooms, chopped coarsely
150 g brown medium grain rice
1 tablespoon finely grated lemon rind
¼ cup loosely packed fresh parsley leaves
Method
Preheat oven to 180 ⁰C.
Place sweet potato on lightly oiled oven tray, spray with oil. Roast uncovered for 25 minutes or until tender.
Meanwhile, bring stock to boil in a small sauce pan. Reduce heat, simmer, uncovered.
Heat oil in a medium saucepan, cook onion, garlic and celery, stirring often, until onion softens. Add the mushroom and rice, cook and stir for 2 minutes. Add stock, reduce heat, simmer (covered) for about 50 minutes or until stock is absorbed and rice is tender. Stir in sweet potato, lemon rind and parsley.
---
Baked Potato with Guacamole
---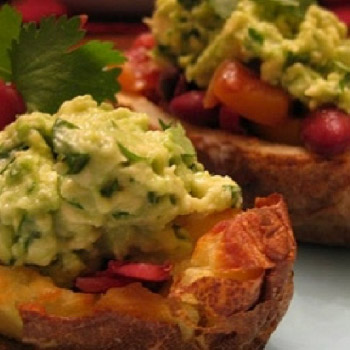 Serves 1
(double up on the ingredients to serve 2 people)
Ingredients
1 large potato
1 small avocado
1 small red onion, finely chopped
1 tomato, chopped finely
1 tablespoon finely chopped coriander
1 tablespoon fresh lime juice
50 g assorted green leaves (rocket, butter lettuce, etc.)
Method
Preheat oven to 180 ⁰C/200 ⁰C.
Pierce potato skins in several places with fork, wrap potato in foil; place on an oven tray.
Bake for about an hour or until tender.
Mash avocado coarsely in small bowl, stir in onion, tomato, coriander and lime juice.
Cut a deep cross in potato, serve potato topped with guacamole accompanied by the assorted green leaves and lettuce.
---
Beef With Chili and Vegetables
---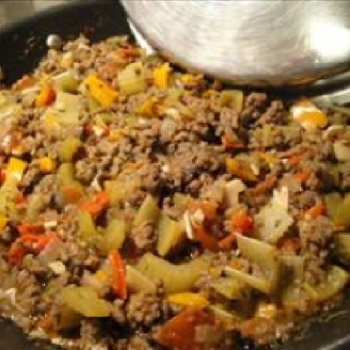 Ingredients
¼ cup roasted chili salsa
2 tsp olive oil
½ bunch cilantro
2 large whole tomatoes
8 stalks medium celery
1 medium onion
2 small red peppers
1 large yellow pepper
500 g lean ground beef
Method
Place the ground beef to brown in a large skillet on low to medium heat. Stir occasionally to break up and prevent burning.
Season to taste with your favorite seasoning such as salt and pepper.
While the meat is browning, cut up or chop vegetables into small bite-sized pieces and set aside, except for the onion, in a large bowl.
Once the meat is browned, remove from the skillet, drain if necessary (although there should be minimal grease with the extra lean beef) and then place the chopped onion to sauté with a touch of olive oil on low heat.
Once tender, add garlic, pepper, and a few tablespoons of roasted chili and turn it up to medium heat to get everything sizzling. Then add in the rest of the vegetables, stir, cover and turn down to low and allow to simmer for about 5–10 minutes.
Finally, add the browned ground meat back into the skillet, stir, cover and cook on low for an additional 10–20 minutes, depending on how tender you like your celery.
Uncover, stir and enjoy!
Note:
By itself, it's a wonderful healthy way to eat a lot of vegetables with your beef, thereby improving the glycaemic load of your meal. It could also be served over rice or pasta if your diet allows the extra carbs. As a variation, substitute black or kidney beans for the meat or add beans to the recipe to take the antioxidant levels up a notch.
---
Savory Balsamic Herb Chicken
---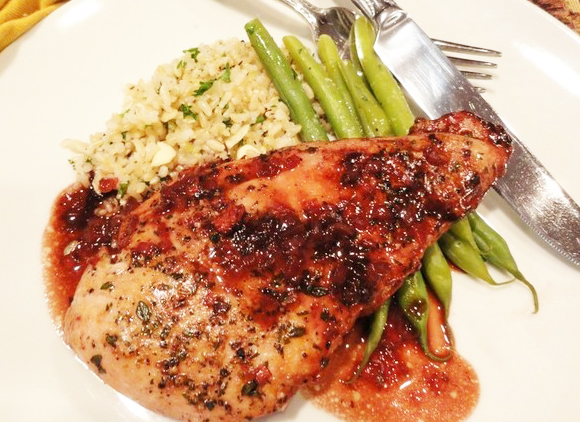 Ingredients
1 kg boneless skinless chicken breast
2 cups fat free reduced sodium chicken broth
4 tbsp balsamic vinegar
2 tsp minced garlic
2 tbsp whole-wheat flour
2 tsp thyme leaves
1 tbsp olive oil
1 cup chopped onion
Method
Coat the chicken with the flour. Heat the oil in a 30-centimeter skillet over medium heat.
Add the chicken in 2 batches and cook until well browned on both sides.
Remove the chicken from the skillet, cover with foil.
Add the onion and garlic to the skillet and cook until tender.
Stir the broth, vinegar and thyme in the skillet and bring to the boil. Return the chicken to the skillet.
Reduce the heat to low. Cover and cook for 5 minutes or until the chicken is cooked through.
Serve the chicken and sauce with rice or mashed potatoes.
Note:
Based on a recipe from Campbell's Kitchen.
---
---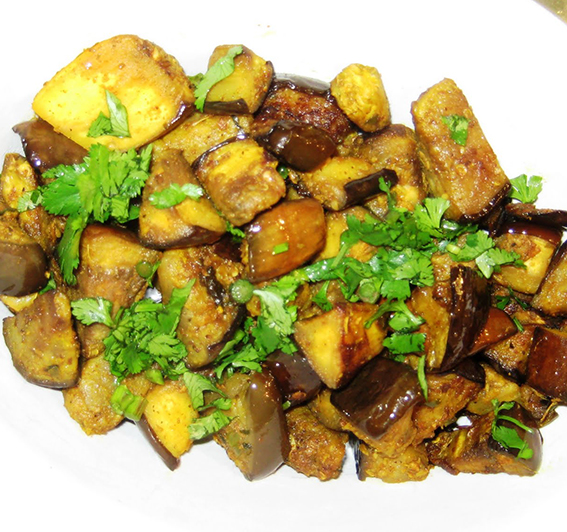 Ingredients
3½ tbsp butter
½ cup low fat plain yogurt
1 tsp coriander, ground
½ tsp cumin
½ tsp garam masala
½ tsp paprika
1 dash salt
1 tbsp coconut oil
The juice of 1 lemon
The juice of 1 lime
4 unpeeled eggplants, cubed
2 cloves garlic, crushed
3 slices ginger, finely chopped
Method
Toss the aubergine (eggplant) in vegetable oil and salt.
Heat a griddle pan until very hot. Griddle the aubergine until striped on each side.
Mix together the yogurt, lime juice, garlic, coriander, cumin, garam masala, paprika, melted butter and lemon juice (keep some butter and lemon juice back for later).
Coat the aubergine with the yogurt mixture. Marinate in the fridge for 2 hours.
Preheat the oven on grill. Brush the aubergine with a mix of melted butter and lemon juice. Grill until golden on all sides.
---
Banana Passion Fruit Yoghurt
---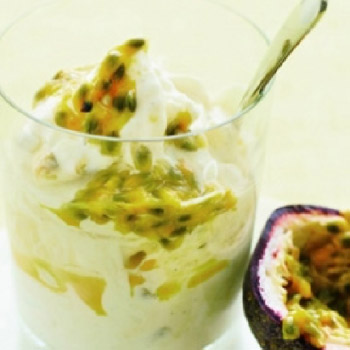 Ingredients
2 tablespoons plain, low fat yoghurt (alternatively use soy yoghurt)
2 tablespoons fresh granadilla pulp (halve granadillas and spoon out the filling)
½ a banana, sliced
Method
Combine the yoghurt and half of the granadilla pulp in a small bowl to create a yoghurt mixture.
Place banana in a separate bowl and pour the yoghurt mixture over it.  Cover with the remaining passion fruit.
Orange, Mango and Strawberry Smoothie
---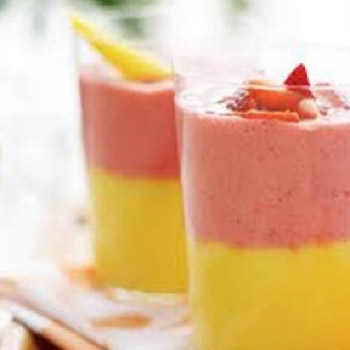 Ingredients

2 small oranges
1 small mango, coarsely chopped
3 strawberries, coarsely chopped
Method
Juice the oranges on a hand juicer and pour it into a glass.
Blend mango and strawberries in a blender until smooth and stir into orange juice.
Cream Cheese and Bacon Jalapeno Poppers
---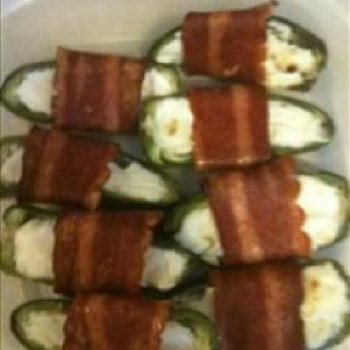 Ingredients
½ cup cream cheese
4 medium slices bacon, cut into strips
8 jalapeno peppers
Method
Cut the chili peppers in half lengthwise; scrape out seeds and membranes.
Fill each half with cream cheese, but do not mound it. 115 g should be just about the right amount for 8 average size jalapeno halves. If you have extra large peppers, make sure you have a full 230 g of cream cheese on hand.
Wrap each pepper with ½ slice raw bacon, making sure to start with the end on the bottom of the pepper. Stretch the bacon slightly to make it go all the way around each pepper once, then tuck ends underneath.
Place cream cheese side up on foil-lined baking sheet. These can be assembled and chilled until just before baking and serving.
Bake at 190 °C (375 °F) for 20–25 minutes.
If bacon isn't quite done, broil a few more minutes to brown.
---